Frequently Asked Questions
There is a lot that goes into Best of Ceres! Here are the answers to the most commonly asked questions:
What is the Best of Ceres?
The Best of Ceres is a celebration of the best our region has to offer when it comes to businesses and organizations that make the Turlock area a great place to live!
How does The Ceres Courier determine Best of Ceres winners?
You can nominate your favorites in dozens of categories through our online ballot. Write-in nominations are accepted from December 28, 2022 to January 10, 2023. Voting runs from January 11, 2023 to February 12, 2023.
The top vote-getters are this year's Best of Ceres winners!
How does the nomination period work?
From December 1-31, readers will be able to write-in nominations for their favorite local businesses and organizations. If you do not see your business name in a category, that means you have not been nominated yet (or nominations for you have not yet been vetted).
**Please note there is some lag time for nomination approval.**
Why isn't my nomination on the ballot? IT'S BEEN DAYS!!!
Each write-in nomination has to be vetted by our team for accuracy (correct spelling, appropriate category, within the eligibility zone). Due to the massive amount of nominations coming in, it takes a lot of time to do that work. Rest assured, all nominations will be counted and tabulated by the end of the nomination phase on January 11 when voting begins!
Nominations will be disqualified if the nominee does not have a physical address in one of the following cities:
Ceres
Modesto
Keyes
Hughson
If you'd like to help us out with this process, please make sure your nominations are spelled correctly, they are appropriate for the category in which you're nominating them, and they are within the eligible area. We really appreciate your assistance! 🙂
When do nominations begin and end?
Write-in nominations begin December 1, 2023 and end December 31, 2023. Voting will not be underway at this time; only new write-in nominations will be accepted!
How many times can I nominate a business?
One nomination per category.
What if I missed the nomination window?
Once the voting begins, no more new nominations can be accepted. If you see your nominee is not yet on the ballot, make sure to nominate them before the window closes!
Do businesses have to pay to get on the ballot?
Absolutely not! It is 100% free to participate. We do have sponsorship/advertising options to give your business more exposure, but purchasing advertising does not guarantee anything for the contest. If you are interested in getting your business logo on the ballot, you can click here to request our media kit.
What if my business category is not on the ballot?
We'd love to hear from you if you have any comments or suggestions for the ballot, including additions or modifications to our category list! This is your contest, after all! Please email those messages to promotions@209multimedia.com. Your request will be submitted to our ballot committee for consideration on this year's ballot or a future ballot.
Do advertisers automatically win?
No! The Best of Ceres results are based on our reader voting. Some winners may be advertisers or later choose to be one, but being an advertiser does not guarantee a win.
We work hard to maintain the integrity of this contest because it means so much to our community. We do NOT sell votes! Any business/nominee that is flagged for fraudulent activity will be removed from the ballot for the remainder of the 2022 campaign. Cheating will not be tolerated! (and yes, we can tell.)
How can I promote my business to get nominations?
See our Best of Ceres nominee toolkit with flyers, graphics and marketing tips to help you spread the word. Also, we've prepared a number of social media images you can use to ask for votes on your social media platforms!
Where is the "submit" button? How do I know my nominations counted?
There is no final "submit" button. Once you click the "NOMINATE" or "VOTE" button and enter your email address, your choice is recorded. No further action is needed.
I'm having trouble registering. What do I do?
When you start nominating in the first category of your choice, you will be asked to fill out the registration form. When you complete this step, you will be registered and you can continue casting your votes on the ballot.
If you have trouble with that process, we would suggest trying a different browser or device.
I don't have time to fill out the whole ballot right now. Can I come back later and do more?
Sure! As long as you've already registered in that round and it's before the deadline, you can pick up where you left off. When you return to the ballot on the same device, you should be automatically logged in and able to see your previous selections. If you aren't logged in and you know that you've already registered in that round, click the "Already participated in this round…" link for further instructions.
Can I continue the process on another device?
Yes. When you return to the ballot on a different device, click the "Already participated in this round…" link for further instructions.
Why do I have to make an account?
Our ballot software requires that users create an account to track their selections. This helps us guard against fraudulent voting and allows you to revisit your ballot before deadline to make changes and additional nominations. Don't worry, there is no password needed, and we will not sell your data to any third party.
How do I find out who the winners are?
Winners will be announced in a special magazine in the Ceres Courier in March, 2023 and will be visible here on BestofCeres.com shortly thereafter.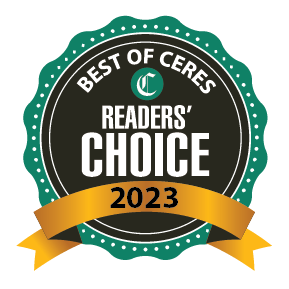 An Excellent Advertising Opportunity!
As a nominee in the Best of Ceres, you are in a position to reach thousands of local residents during our biggest local event of the year!
By sponsoring a group or category in this year's ballot, your ad will appear at the top of your chosen categories, linked directly to your company's website.